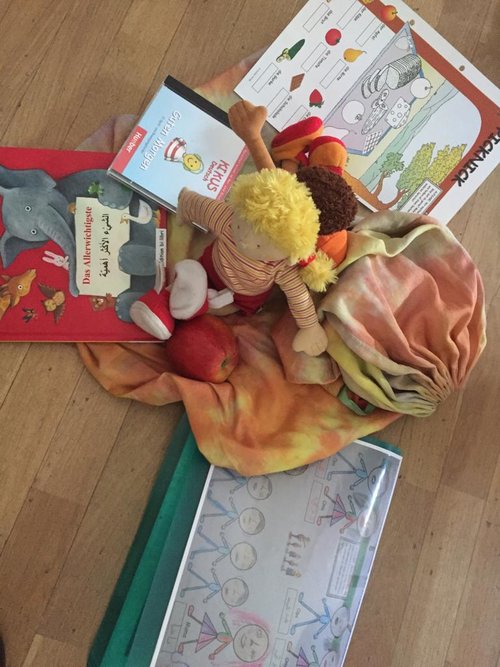 As part of the "Consultants for Charity", it-economics employees spent valuable time to charitable projects. Together with the Allianz for Children Foundation, an amount of EUR 10,000 was donated to the Center for Child Multilingualism e.V. (KIKUS) in 2017. The donation was handed over on location in Munich.
The main purpose of KIKUS is to make language and education accessible to all children and thus to provide equal opportunities. The focus is on children with a migrant background from a needy environment or refugee children. The donations will be used to fund student fees, course material and teacher training.
As part of a visit and viewing appointment at the Munich facility, Ronja Burghardt, CEO, Allianz Foundation for Children and Anja Böger-Lange, Head of Marketing at it-economics presented the donation check to Dorothea Rein, board member of the Center for Childish Multilingualism and Eva Götz from the KIKUS team. On site, it was clearly demonstrated how exactly the playful and interactive KIKUS language learning method works and why the everyday integrated language support, which also includes the parents, is so successful.
Pledge 1% - companies take on social responsibility
The Consultants for Charity Day and the commitment to KIKUS are part of the social commitment of it-economics. At the Atlassian Summit in May 2017, it-economics joined the Pledge 1% initiative. Pledge 1% was co-founded by Atlassian, Salesforce and Rally. The aim of the initiative is to invite companies of all sizes to invest 1% of their corporate capital, 1% of their employees' time or 1% of their products to do something good for the world.
More about the social commitment of it-economics: https://www.it-economics.com/social-engagements
More information about KIKUS at: www.kikus.org